Connecting Batteries to DLI PoE Injectors

This page covers frequently asked questions (FAQs) for battery connection and charging.
If you are using 12V batteries, we suggest the following configurations:
15V PoE - one 12v battery, AGM recommended - 13A maximum run current - 2A max charge current, 12AWG battery cable suggested.
24V PoE - two 12v batteries connected in series, any type - 7 A maximum run current - 1.5A max charge current. 14AWG suggested.
Batteries connected in series are wired like this: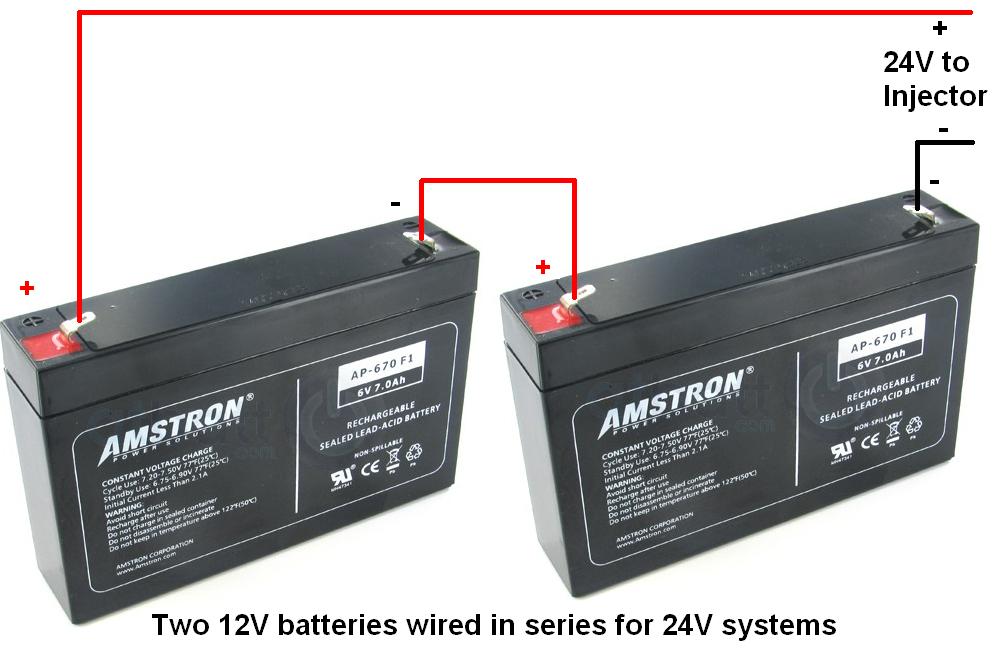 Tips:
Use any size battery. The larger the battery, the longer the run time, and the longer the recharge time.
You must use identical battery types and capacities when wiring them in series.
The injector is fused and protected against reverse polarity. For additional safety, add a fuse at the battery if they are located more than a few feet from the injector. This will protect you if the cable between the injector and the batteries is shorted.
Use lower AWG lower (heavier wire) to minimize voltage loss on longer battery cable runs.
Wiring batteries in series-parallel to increase AH capacity is fine.
If you would like to use the internal battery charge feature, leave the factory-installed jumper on the CHG terminal. If not, remove it.
It is perfectly acceptable to wire multiple PoE injectors in parallel. In other words, several PoE injectors (of the same voltage rating) may share the same battery bank..
To calculate your battery run time, first use an ammeter measure the actual current used by your equipment. Then divide the battery AH capacity by the actual current used. For example, if you measure a 2A battery load, and you select 7AH batteries, you will have a maximum of 3.5 hours run time under optimum conditions and 100% charge. Battery capacity deteriorates over time, and batteries are not 100% efficient, so be conservative in your selection.
The internal charger is sized for batteries around 10AH. You can use larger batteries (any size you like), but they will need to be low-leakage for the internal charger to maintain them. If you use large batteries (over 20AH), you'll want to consider an external charger, such as a MeanWell PB-600 or 1000 . For a fast recharge from AC power, or to maintain and charge large batteries (> 20AH) without solar or wind, an auxiliary charger is essential.
If you are using solar or wind power to charge the battery bank, be sure to use an external charge controller between the wind generator or panel and the battery bank to prevent overcharging. Select a charger with under-voltage cutout (UVLO/UVCO) that has separate terminals for the battery, panels, and load. The UVLO feature will allow the system to reset reliability when batteries are completely drained. Under voltage cutout will also extend the life of your batteries.
Avoid applying an external voltage in excess of 16V to a 15V injector, 30V to a 24V injector, or -63V to a -48V injector.
Flooded batteries produce hydrogen gas and acidic vapors when charged. This can be hazardous in enclosed spaces. Liquid battery acid is corrosive and dangerous. Consider gel-cells or AGM.
Any type of lead acid battery is compatible, ie. gell-cell, flooded, or AGM. Never use NiCd, Lithium or other batteries. They have unique charge characteristics incompatible with the internal charger.
Like to learn more?
Download a PoE spec sheet, surf the FAQs, skim the user's guide, or try the web UI online (user=admin & pass=4321).

Have a Look at Our Other Solutions...
Need something else? DLI builds a
15V POE injector
,
-48 volt POE injector
as well as
redundant rack-mounted PDUs
,
Vertical PDUs
,
-48 volt telecom controllers
and
DIN relays
.