Remote Voltage Monitoring with DLI PoE Injectors

It's nice to know if a battery is low or if AC power has failed at a remote site. A remote voltage monitoring feature has recently been added to our 24 and -48V PoE injectors. If you have a -48V injector shipped in 2013 or later or a 24V injector with P/N prefix POER, you have the hardware required for remote voltage monitoring. This feature allows the user to remotely check the status of AC power (OK or FAIL), and to meter battery and PoE voltages. In the event of a failed or shorted PD, PoE over-current will trigger an audio alarm and can be remotely detected.
Access via Serial I/O
To access the voltage monitor, first select 9600 8N1 and Click Submit on the Scripting page as shown. This setting is saved and only needs to be selected once.

To connect to the voltage monitor, click the Console button on serial port 1. Press <return> to read the voltages: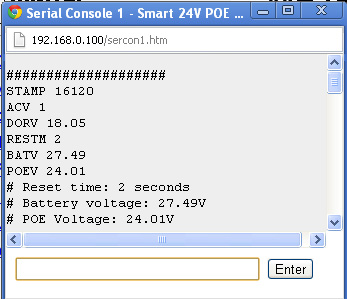 The first half of the screen includes a time stamp and machine-readable values:
STAMP - Sequence stamp for this reading
ACV - Status of AC Line Voltage : 1=OK, 0=POWER FAIL
DORV - Over-current monitoring value - A PoE short circuit causes this value to drop below 10.
BATV - Battery voltage, measured at the terminals in DC Volts (while under charge if ACV=1)
POEV - PoE Output voltage DC Volts
Lines beginning with # are English translations. Additional warnings appear for PoE over current and AC power-line failure conditions. The console window refreshes automatically. Pressing ? <return> produces a list of commands for remote reset:
1 - 8 Entering a number sends a remote reset command to that PoE port. The "reset time" delay is used.
a - Resets all ports in 1->8 sequence
s - Sets the Reset time delay to 2 seconds
m - Sets the Reset time delay to 10 seconds
l - Sets the Reset time delay to 20 seconds
Multiple commands may be entered at once, for example s1m234 will reset port 1 with a 2 second delay, then reset ports 2,3 and 4 with 10 second delays.
Remote Hardware Reset-to-Defaults for UBNT Style Products
APs and IP Cams which support remote reset-to-defaults via DC voltage superimposed on the data lines can be reset by entering the port number. For example, to reset radios attached to ports 1, 2,and 5, enter the command 125<enter> in the serial command window. Various types of reset sequences can be implemented by changing the delay time. Exact functionality is determined by the powered device. Note that some target devices may have this feature disabled in firmware.
Future Improvements
Plans are to incorporate the voltage monitoring feature directly into the web interface, and possibly into scripting and syslog as well. Check back and we'll update you on our progress. Firmware information can be found here. Feel free to
Have a Look at Our Other Solutions...
Need something else? DLI builds a
15V POE injector
,
-48 volt POE injector
as well as
redundant rack-mounted PDUs
,
Vertical PDUs
,
-48 volt telecom controllers
and
DIN relays
.