DIN Relay III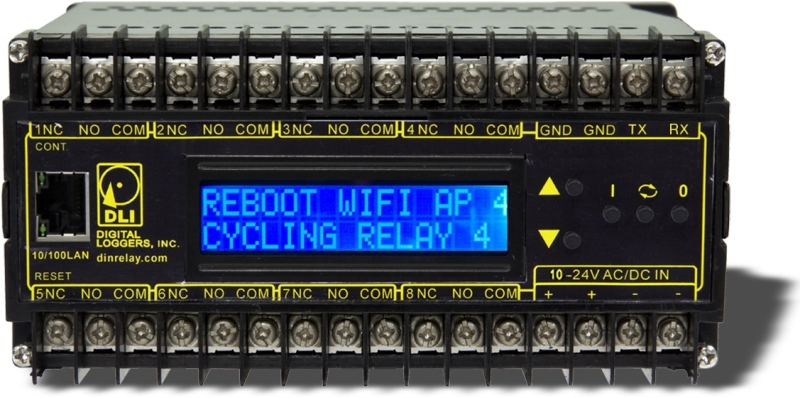 Web switching is now affordable! Get a complete web server, power supply,
auto-ping
, clock/calendar, and eight relays all in a miniaturized package at a breakthrough price!
Control Any AC or DC Device!
Control anything anywhere! Do it reliably. Save time, eliminate service calls, save power. Reboot remote routers and APs. Control and sequence lighting, machinery, all via the web! Customize the web server with your own links. Easily craft your own control programs. Do it all securely from your browser.
Please call (408) 330-5599 for details.
Recent Design Updates:
In 3.1, we added an RS-232 port and under-voltage lockout for safer operation on batteries. In 3.0, we added a real-time-clock with battery backup , NTP, and local time sync. There's a fully programmable LCD and a keypad for setup and local control.
AutoPing
is faster and more flexible. Customize with ease using
the event scheduling feature
and
BASIC scripting
Utilities like our
email alerter
are included free.
Like to learn more?
Call (408) 330-5599,
read the FAQs
,
check the updated spec sheet
, or
preview the manual.


Need something similar? We also build AC power controllers and PoE injectors.