NEW!

DIN Accessories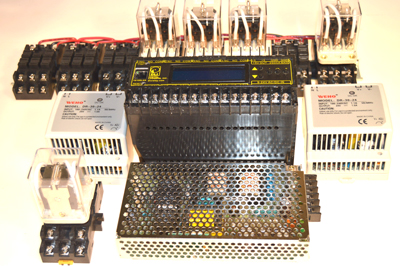 Building something custom
using a DIN relay
or
PLC?
These components may help:
24V DC Power Supply

This supply is selected for reliability. It's conservatively rated at 1.5A / 24VDC. The trim control reaches 28V for battery charging. Since the DIN Relay and PLC draw less than 0.2A, you have 30 watts for accessory relays and contactors. 90-240VAC mains input. Snaps on DIN rail. $25.

JQX-38 40Amp Relay

Need to handle more current? This popular power relay has three sets of double-pole contacts, ie. 3PDT. Attaching it to a single circuit lets you control three 40A circuits simultaneously. The 24V coil draws 37mA. <1W Contacts are rated to 240VAC. A screw-terminal socket is included. Snaps on DIN rail.

Temperature Sensor

Using a Dallas or DHT TTL sensor on a PLC can require removal of the ADC input divider. That reduces input protection. Modifying Arduino drivers to use protected I/O is a hassle. RS-232 sensors are expensive. Here's an alternative used by several customers: A thermistor probe. These are built for automotive applications, so they're rugged. Room temperature resistance is 15K. Add a pullup to connect directly to an analog input. They come with a 10" wire pigtail. Sold in bags of 10 for $19.

Steel Din Rail

1 foot length. Plated. $7 Call 408-330-5599 if you need a custom length.
Learn More
About the DIN Relay here.
Or about the JQX-38 here.
Are there
other components you'd suggest we carry?
Call (408) 330-5599 now for expedited shipping and quantity discounts.