NEW!

DIN Accessories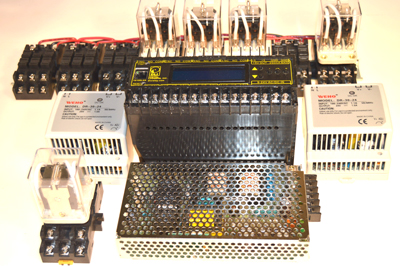 Building something custom
using a DIN relay
or
PLC?
These components may help.
24V DC Power Supply

This supply is selected for reliability. It's conservatively rated at 1.5A / 24VDC. The trim control reaches 28V for battery charging. Since the DIN Relay and PLC draw less than 0.2A, you have 30 watts for accessory relays and contactors. 90-240VAC mains input. Snaps on DIN rail. $25.

JQX-38 40Amp Relay

Need to handle more current? This popular "ice cube" power relay has three sets of double-pole contacts, ie. 3PDT. ie. A single coil controls three 40A circuits simultaneously. The 24V coil draws 37mA. <1W Contacts are rated to 240VAC. A screw-terminal socket is included. Snaps on DIN rail.

RJ-12 Digital Temperature Humidity Sensor

The DHT11 senses both humidity and temperature on DIN Relays, Gigabit Injectors and Ethernet Power Controllers with an RJ12 (phone jack) sensor ports. Lifetime of the humidity sensor is typically 2 years in high moisture environments.. $14

P/N: DHT11

RJ-12 Digital Temperature Sensor

The long lifetime, waterproof DS18B20 is available for Din Relays and Ethernet Power Controllers with an RJ12 sensor port. $7

P/N: DS18B20-RJ12

Thermistor Temperature Sensor

Using a Dallas or DHT TTL sensor on a PLC can require removal of the ADC input divider. That reduces input protection. Modifying Arduino drivers to use protected I/O is a hassle. RS-232 and 0-10V sensors are expensive. Here's an economical alternative popular with customers: A thermistor probe. These are built for automotive applications, so they're rugged. Room temperature resistance is 15K. Add a pullup resistor to connect directly to an analog input. They come with a 10" wire pigtail. Sold in bags of 10 for $19. Useable with any ADC input, ie: ones on the DIN relays and PLCs.or the Ethernet Power Controller DB9 port.

P/N: TEMPPROBE


3.5mm Digital Temperature Sensor

The DS18B20 is available for the Web Power Switch Pro, DC switches and other products with 3.5mm sensor jacks. $9

P/N: DS18B20-35

Steel Din Rail

1 foot length. Plated. $7 Call 408-330-5599 if you need a custom length.

Rack Mount DIN Chassis

3-U Lightweight Aluminum frame for 19" racks. Mounting ears slide in and out to adjust. DIN rail can face front or rear $59.

0-5A DC -> 0-10V DC Non-contact Current Sensor

Quality import. 24V power input. Measures +/-5A accurately Uses a magnetic modulator for better accuracy/less drift than a hall sensor. +24 power in, +/-10VDC output. P/N CR5211-5 Specs here. $35




2000 - 7500A Rogowski Coils

Nicely built 1% commercial Rogowski transducers with preamps. US built by LEM DynAmp. Silicone covered loops, about 8" diameter. These open then snap shut with 1 or 2 loops around the power conductor. Choose RR 7500 (two loop, specs here) or for three phase, the RR-5000 (three loop, specs here). New, surplus to our needs. Original cost over $900! Limited quantity available at $219

Contactors

We have a few 50A to 500A contactors in stock. Best to email engineering@digital-loggers.com with your needs.

CT Bias Card

Bias card centers the AC output of common CTs to 5.0v. TVS diodes add protection. Add the appropriate burden resistor for your design if any. Four identical channels, 1/8" input jacks. Includes clips for DIN rail mounting. US built. Schematic here. $25
Learn More
About the DIN Relay here.
Or about the JQX-38 here.
Are there
other helpful components you'd suggest we carry?
Please stop by when you're near Silicon Valley. Call (408) 330-5599 for expedited shipping and quantity discounts.