24 Channel USB Logger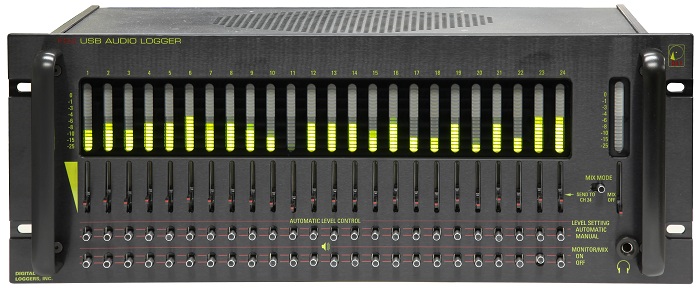 Just connect phones and a USB cable and you're done! You'll instantly record up to 24 channels in crystal-clear digital quality.
Search, Play, Email, Copy
Play back from any PC. Monitor remotely. Find calls instantly. Just click on the time and date. Copy, email, encrypt, and transfer calls on any computer.
Evidence Builder
searches by caller, number, notes and other fields.
Automatic Level Controls, MIX Mode
We spared no expense in designing this logger for military and law enforcement customers. Use the slide controls for level adjustment or switch to the automatic mode. A powerful audio processing system ensures perfect audio quality on any phone or radio line. Use the MIX feature to monitor several lines simultaneously and combine recordings.
Install it Yourself -- Save Thousands!
The USB connection makes installation a snap! Connected to your existing file server, you'll have a more powerful, better sounding logger than systems costing thousands more. All with no service contracts, no software licenses, and no moving parts to break!
Incredible Pricing -
$3995!
By separating the logger from the file server, your own MIS department can manage the logger. Gone are the headaches and maintenance contracts associated with older DVD or DAT systems.
Like to Learn More?
Preview the installation guide
or just call.
Possibly a complete system including IBM servers? Then
have a look at our full-rack loggers.
A radio recording system?
Fewer channels, lower cost?
Look here.