Frequently Asked Questions
Updated 04/16/2020
ETHERNET POWER CONTROLLER 7

Download a users guide.
Check the specs.
---
How do I use the
keypad to set it up?
---
General FAQs
---
How do the meters work?
What's the DB-9 pinout?
---
Enternal APIs - Communicating with the power controller
---
---
| | |
| --- | --- |
| Question: | I have a different model: Web Power Switch 7, 6, 5, 4, Ethernet Power Controller II, III, V, or PC-8000 model. Where can I find information? |
| Answer: | Jump to the support page here. Don't see what you need? Just give us a call (408) 330-5599. |
---
---
| | |
| --- | --- |
| Question: | How does the sensor port work? |
| Answer: | The sensor port is an ESD protected TTL level bidirectional port. It's suitable for Dallas 18B20 or DHT11 style sensors. The RJ12 pinout is: 1 &2 - 5V power out. 5V current is limited to about 50mA. Pins 3 Data (bidirectional) & clock. Pin 4 is ground. The power controller will automatically detect the attached sensor, and it can be interrogated via the RestAPI. There is also a DB-9 connector for expansion or custom-built peripherals. Email engineering@digital-loggers.com with your needs and suggestions. |
---
Question:
How do the meters work?
Answer:
The Ethernet Power Controller 7 has four internal meters. Bus A and Bus B each have one separate current and voltage meter. The voltage meters measure the input voltage on each bus. The current meters measure the total current drain for all the switched devices on each bus. One un-switched outlet on each bus bypasses the meters to provide un-metered "house power". Keep this in mind when planning your wiring. The un-switched outlets are located in the center of the panel. Although the product will easily handle 15A on each bus, it's recommended to stay in the 13A range or so to leave headroom for dynamic loads. The circuit breakers are a "guaranteed hold" at 14.8A. There is a manual power factor correction which can be entered for each bus to correct known non-PFC loads. Histograms and meter readouts can be customized to suit your needs. Two cumulative energy meters are provided. They accumulate power use over time to display energy in kWh.
Now that the firmware now includes internal notification, so no external utilities are necessary. In version 7, the voltage metering time constant has been changed to ~1500ms. DB9 ADC inputs may also be supported in future firmware releases.
---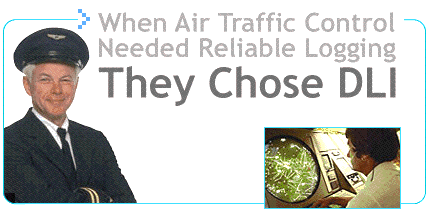 If we haven't answered your questions here, please call (408) 330-5599 or send us an email. We'll be glad to help.
© Digital Loggers, Inc. 2005-2019.